Liberia
As of October 2018:
245 churches have been planted,

5,378 adults in discipleship groups,

10,253 decisions to follow Christ, and

188,476 attended a JESUS film showing.

Life in Nimba, Liberia is generally rural-based with most of its population living as subsistence farmers. The County, like most other counties in Liberia, was deeply negatively affected by the civil war. Most of its people were forced to flee, thereby disrupting their livelihood.
Its basic infrastructure including roads, schools, and health facilities remain in poor condition despite the efforts of local communities, the Government of Liberia, UN agencies, EU, NGOs and private investors to revive the economy and restore basic services.
Bordering Guinea and Cote D'ivore, this area is of considerable geopolitical consequence. The County bore the brunt of successive civil unrest since the 1980s. This is because some prominent sons of Nimba had been linked to coups and other forms of subversive activities in the County.

This has contributed to the extreme vulnerability of the populations in terms of food security, health care, and education. Limited employment opportunities in the districts were also lost.
As a result, many are extremely poor and lack hope for a better future.

The JESUS Film Church Planting Strategy (JFCPS) has two Dan teams working in this region, sharing about God's love for them.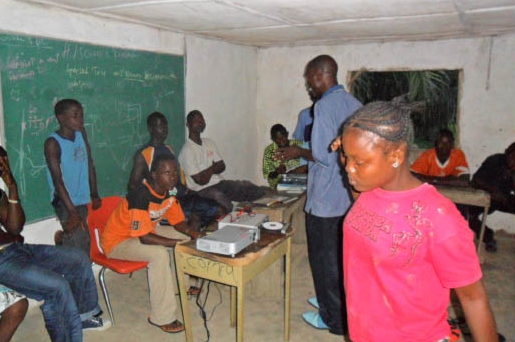 Majority of the villagers in this region follow African traditional religious practices (25%). 4% follow Christianity and the remaining 2% follow Islam. Yet, once they discover who Jesus is, they experience peace and a new sense of hope.
"I thank God that the JESUS Film came to our hometown. This village is filled with all kinds of evil practices. May God help many people to turn from these things as they learn about His love for them. We have heard how God has been working in other parts of our village where the JESUS film has been shown, and we pray that this will also happen here in our neighbourhood," shares Johnson.
Peter shares "I thank God that you have come to our town and I welcome you here in Nyoaplay. I am the town chief and I am glad that you are planning to establish a Christian church here in our town. I believe that this will help reduce the excessive drinking of alcohol that is common among our people. Because of the JESUS Film showings, many in Nyoaplay have already turned from their former ways."
Others need to hear about the freedom and hope that Jesus can bring.
Will you partner with us?

SOURCE:
NIMBA COUNTY DEVELOPMENT AGENDA 2008 – 2012
http://www.joshuaproject.net/people-profile.php?peo3=11485&rog3=LI