Mazateco (October 2012)
The Mazateco church planting team was, with God's help and in partnership with a church in Santa Cruz, Teotitla, Oaxaca, able to enter a very difficult area to evangelize. Angel Andrade Estrada, the pastor of the local church, told the team, "We are a handful of people but we want to reach other villages for God's glory. We want to reach San Pedro Ocopetatillo. We want your help to reach that village."
San Pedro Ocopetatillo has many healers and sorcerers, and a witchcraft temple where many people meet. The action group trained from Pastor Estrada's church did not get permission to show the JESUS Film the first time they went
there in November 2011. However, they went door to door sharing the gospel. They went back in December and again in January and were allowed to show the JESUS Film on a Sunday afternoon.
"This is a very difficult town," said one of the action group members. "People do not want to know about Jesus. They told us that only the priest or his leaders have the right to talk about Jesus."
As the team were setting up the for the film showing, authorities came and asked them to turn off the Christian music they were playing to attract people to the venue. But once the screen was up, people began to show up and they told the authorities that they liked the music so it was kept on. The people liked the screen so much saying they had never seen a TV that big. They requested to watch the movie again.
"It has been a blessing to serve God in this town. It is very hardhearted town, but here is where we see God's power in action," said the church planting team.
In Valle de Zaron, Chilchotla, Pastor Marcelino Miranda planned to reach a nearby village called Water Boy. Five people from his church received training and showed the JESUS Film in the said area. Of the people who saw the film, 17 adults committed to follow-up and became part of a church plant.
Pastor Constantino Peña and his church had been praying for an opportunity to reach Barranca Seca. This came when the JESUS Film church planting team trained nine people from his church on evangelism and follow-up. They traveled quite a distance using a borrowed truck to Barranca Seca where they showed the JESUS Film in spite of a typhoon that hit the area. A church was planted there.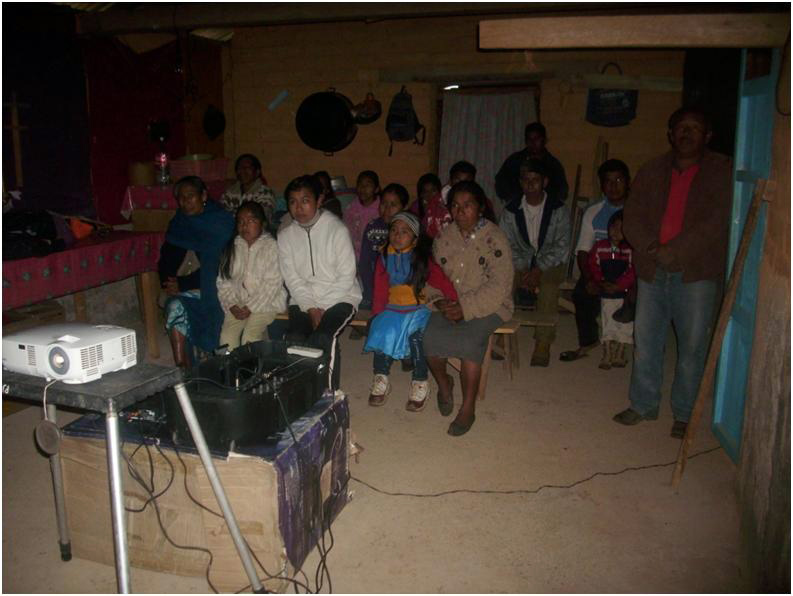 Finally, in San Agustin, Chilchotla, Pastor Marcelino Miranda said they were ready to go out and spread the gospel. An action group composed of six people from his church went to San Pedro Rio Lodo and planted a church after showing the JESUS film and doing evangelism. "With God's help, we will reach many people for His Kingdom," said one action group member.