Sierra Leone
As of December 2019:
653 churches have been planted,

13,268 adults in discipleship groups,

41,682 decisions to follow Christ, and

223,964 attended a JESUS film showing.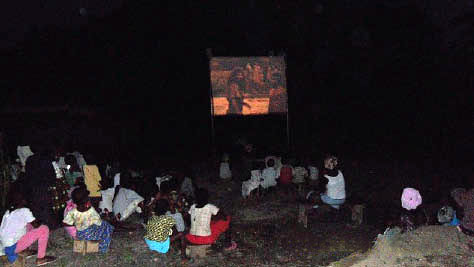 "I was preparing my Ramadan food when I heard the sound of the JESUS film so I decided to abandon what I was doing and rushed over to watch the film. I was very attentive and watched in amazement the powerful signs and miracles that were performed by Jesus, especially the raising back to life of that little girl. I believe that I must now become a follower of Jesus. Only God is capable of doing such miraculous works and my desire is to do God's will." - Kaday
"I have already seen a difference in my life since you came to our village. Jesus' teachings about forgiveness touched my heart because I have never heard of this before. Who forgives others when punishment is deserved? Jesus did, and He tells us to do likewise. This teaching about forgiveness has changed my negative attitude towards others and more importantly caused me to ask Jesus for His forgiveness. I look forward to learning more from you about living according to God's Word." - Saindu
"Though I was a Muslim I always loved the things of the Christians. They are lively in doing things and are always happy. I wished that if a church were planted here, I would become a Christian one day. I believe this is what has exactly happened. Watching the JESUS film created more conviction in me to become a Christian because all that I saw is the reality about God. Thank you for bringing the church here." - Sullayman
Where are we working?
We have five JESUS Film Church Planting Strategy teams focused in the following areas:
1) Kuranko
2) Loko
3) Sherbo
4) Kenema
5) Pujehun
Will you partner with us?